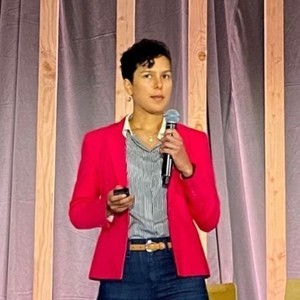 Sophia Vargas
Co-Host of CHAOSScast
Sophia Vargas is a Program Manager in Google's Open Source Programs Office, supporting multiple research efforts that span internal systems analysis, project health, contributor experience, and open source economics. Prior to Google, Sophia was an analyst at Forrester, covering data center, infrastructure and cloud strategy. Sophia holds a B.A. in Mathematics from Williams College
Sophia Vargas has hosted one Episode.
12 February 2021 | 41 mins 41 secs

Hello and welcome to this episode of CHAOSScast! Our special guest today is Sophia Vargas, Program Manager with Google's Open Source Programs Office. We will learn what Sophia does at Google and what she does within the Open Source Programs Office (OSPO). Also, find out how Google looks at the life cycle of open source projects and what they do for their project leads and maintainers to help them take the right steps for their projects. Sophia shares with us how CHAOSS has helped in her work with Google and what her hopes are with CHAOSS in the future. Also, she tells us something she would like to start working on with having the ability to look at data completely anonymously. Download this episode now to find out more! Don't forget to subscribe for free to this podcast and share this podcast with your friends and colleagues.