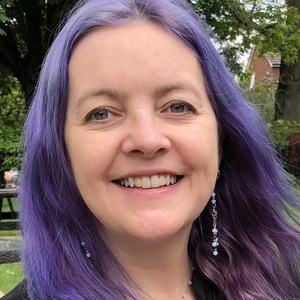 Dawn Foster
Co-Host of CHAOSScast
Dawn is the Open Source Community Strategy Lead within VMware's Open Source Program Office. She recently joined the board of OpenUK, an organization committed to develop and sustain UK leadership in Open Technology. Dawn is on the Governing Board and is a maintainer for the Linux Foundation's CHAOSS project and is on the Board of Advisors for Bitergia. She has 20+ years of experience at companies like Intel and Puppet with expertise in community building, strategy, open source software, metrics, and more. She is passionate about bringing people together through a combination of online communities and real-world events along with analyzing the data associated with participation in developer and open source communities. Dawn holds a PhD from the University of Greenwich along with an MBA and a BS in Computer Science. She has spoken at dozens of industry events, including many Linux Foundation events, OSCON, SXSW, FOSDEM and more.
Dawn Foster is on the CHAOSS Governing Board, a maintainer of the Diversity and Inclusion WG, Common Metrics WG, and a regular panelist on the CHAOSScast.
Dawn Foster has hosted three Episodes.
5 June 2020 | 38 mins 29 secs

Welcome to this episode of CHAOSSCast! Today, we have three guests that are maintainers from the CHAOSS Augur Project. They are Sean Goggins, Gabe Heim, and Carter Landis. Sean is a Professor of Computer Science at the University of Missouri, CHAOSS Co-Founder and Board Member. Gabe is a senior at the University of Missouri, studying Computer Science and Carter is a senior at the University of Missouri, studying Computer Science. They are here to tell you all about Augur and how they play a huge part of the CHAOSS project. Also, Dawn tells us how Augur is used in VMWare's Open Source Program Office. Also, they discuss all of their successes with Augur so far, and if you are interested in exploring Augur, find out where you could start. Download this episode now.

29 May 2020 | 49 mins 55 secs

Welcome to this episode of CHAOSSCast! Today, we have special guests, Venia Logan and Dylan Marcy of SociallyConstructed.Online. They are here to do some introspection on the process CHAOSS follows for defining metrics and to demonstrate this using the Social Currency Metric System (SCMS).

1 May 2020 | 33 mins 50 secs

Welcome to the very first CHAOSS Podcast! In this podcast, we will share use cases and experiences with measuring open source community health. There will be elevating conversations about metrics, analytics, and software from the Community Health Analytics Open Source Software or CHAOSS Project. It's new, and new is always good. And hey, it's got that new podcast smell ☺. Since this is the first episode, we'll be finding out more about our panelists. Kick back, relax, and take a listen.