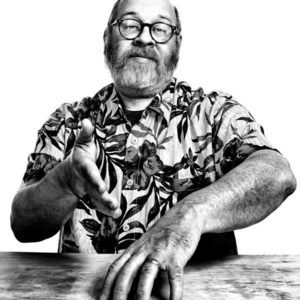 Stephen Jacobs
Special guest
Stephen Jacobs is a professor with the School of Interactive Games and Media and an interdisciplinary scholar who works in several different areas that often overlap including Free and Open Source Software and Free Culture. Digital Humanities, Game Design and History and Interactive Narrative. He also holds the position of Visiting Scholar at The Strong National Museum of Play. His Open Work has been funded by The Ford Foundation, UNICEF Innovation, Red Hat Inc, Northern Telecom and AT&T. Professor Jacobs received the Provost's Award for Excellence in Faculty Mentoring for 2019-2020.
Stephen Jacobs has been a guest on 1 episode.
6 November 2020 | 41 mins 45 secs

Welcome to this episode of CHAOSScast! Our special guest today is Stephen Jacobs, Director of Open at Rochester Institute of Technology (RIT) and Professor at School of Interactive Games and Media in Golisano College of Computing at RIT. Today, we are branching out the conversations into different areas of metrics. Stephen shares his background, how he got his start, and the work he is currently doing with the Open Source Academic Program at RIT. We will discuss challenges in metrics and the impact it has in open and software. Also, Stephen tells us about a community of professors called, Teaching Open Source, and what their goal is. Download this episode now to find out more! Don't forget to share this podcast with your friends and colleagues.