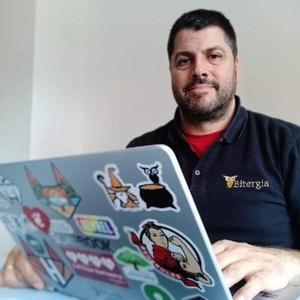 Jose Manrique López de la Fuente
Special guest
Manrique is the CEO and shareholder in Bitergia and a free, libre, open source software development community passionate. He is a graduate Industrial Engineer with research and development experience from the Technological Center for Computer Science and Communications of the Principality of Asturias (CTIC), W3C working groups, Ándago Engineering, and Continua Health Alliance. Former executive director of the Spanish Open Source Enterprises Association (ASOLIF), and expert consultant for the Spanish National Open Source Reference Center (CENATIC).
Involved in several communities related to free, libre, open source software he is currently active in GrimoireLab and CHAOSS(Community Health Analytics for Open Source Software). He has been recognized as AWS Data Hero and GitLab Community Hero.
You can reach him on Twitter as @jsmanrique, and when he is not online he loves to spend time with his family and surfing.
Jose Manrique López de la Fuente has been a guest on 1 episode.
12 June 2020 | 56 mins 2 secs

Hello and welcome to this episode of CHAOSScast! What a great episode this is today! We have three guests joining us. Ray Paik, Community Manager at GitLab and Co-Founder and Board of CHAOSS. Also, Manrique Lopez, CEO at Bitergia, Co-Founder of CHAOSS, and Product Owner of GrimoireLab. And last, but not least, Valerio Cosentino, Senior Software Developer at Bitergia, Maintainer of GrimoireLab Projects, and Maintainer of Google Summer of Code. Today, we will be learning more about GrimoireLab and how it fits into the CHAOSS Project. Also, we will be discussing all the ways to gather metrics and the use of different tools involved in GrimoireLab. There is lots of great info, so download this episode now!